Aktivitäten Programme
---
Official Short Film Competition
This year we have received a record number of entries in our International Call open to abstract films: 842 (eligible) works from 54 countries. The 117 selected films have been structured into seven reels with an approx. runtime of 65'.
Each screening will conclude with Q&A sessions with the audience and artists in attendance.
Screening-Rollen
>
Wettbewerb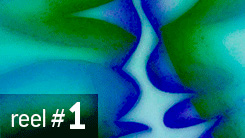 GASTPROGRAMM
We kick off with Visual Music produced to the music of Gustav Mahler at the School for Creative Media, City University of Hong Kong. Introduced by the artistic director Max Hattler.
From Melbourne arrives experimental filmmaker Dirk de Bruyn, who will delight us with a Retrospective of his frenzied and flickering cinematographic universe (1979-2016).
And we'll close with a German Panorama curated by Robert Seidel, fluctuating between fine art, animation, music video and material originally intended for installation and live performance.
GAST-PYRFORMANCES
Object Theatre, digital minimalism, analogue video and the flickering imagery of 16mm film: we have it all.
Dirk de Bruyn (AU) closes the Opening Day with an overwhelming and immersive session of Expanded Cinema.
Yro (FR) will surround us in an intimate and monochromatic milieu to rediscover, amazed, sounds and forms from childhood.
And Robert Lippok (DE) will erase our minds, reestructuring them with hardcore minimalism based on the smallest steps of sound and imagery.
INSTALLATIONEN
Larry Cuba has modified frames from his multi-awarded film Two Space (1979) in order to create a sequence of seamless mosaics which can be adapted to practically any surface, from columns to large walls or domes.
His installation will be located in the Foyer for the duration of the festival.
MEISTERKLASSEN
As usual, we will be holding our Educational Programme in the mornings of the festival, featuring this year deluxe presentations and monographic screenings by Holger Lang (AT), Dirk de Bruyn (AU), Max Hattler (DE) and Jodie Mack (US). Addressed to all those interested in audiovisual experimentation and the creative process.
AKTIONEN
Ceremonies, meeting points, discussion pannels and other collective and playful activities.
---
Organisiert von
Wir bedanken uns herzlich bei